MEET THE MAKER: Emma Jane Floral Design
Meet the Maker: Emma Jane Floral Design
So today I'm super excited to be publishing the first official interview of my Meet the Maker Series! Yay! 

When I first set out wanting to do this series on my blog, I absolutely knew I had to interview Emma! I've known Emma since we went to school together (and then we even went to college to study art together), and her work is just stunning! Her floral arrangements are wildly romantic, soft and captivating....But also beautifully unique. 

Let's dive into my interview with her, and hear all about her wonderful journey into floristry...This is a super interesting one, so I know you're going to love it!
© Sophie Renshaw Photography
1) Hi Emma! Thanks so much for being here! So first things first.... Would you like to introduce yourself and your work?
Hey all! I'm Emma, I run my own floral design business,
Emma Jane Floral Design
,  specialising in floristry for weddings and events. I'm based on the Mid Wales / Shropshire border but always happy to travel. I love working with couples who want something a little out of the ordinary… I'm all about beautiful blooms, natural style and loose shapes with a touch of wild!
2) So tell us, what did you do before you started Emma Jane Floral Design?
I had a round and about journey into floristry. I've always loved art… and maths! (Ha! I know, but I love some numbers!). Post A levels I went to art college (with Gemma) before doing a Masters degree in Mathematics. I worked as a financial auditor for banks, building societies etc up in Leeds before realising corporate life wasn't really for me. 
3) How did you get from your corporate career, into Floristry? And did you train to be a florist, or are you self taught?
I moved back to Wales after being diagnosed with anxiety and depression. After a dreary year of not leaving the house, I wanted to start something creative and fun and came across a part time floristry course at a local college. It was SUCH a big push to battle the anxiety even to just drive to college, never mind actually going inside. But honestly, it was the best thing I ever did and such a major step on my road to living with anxiety.
The course I did was quite old fashioned (lots of 1980's style arrangements!) but I met some amazing people and it opened my eyes to the possibility of a career in floristry. Since then I've been lucky enough to gain experience from some AMAZING florists who have been truly inspiring and taught me so much, as well as doing professional courses and workshops and, of course, learning through practice. Learning the traditional techniques was invaluable but experience has allowed me to find my own style.
© Jessica Karen Photography
4) What made you take the plunge to start Emma Jane Floral Design?
I love working with other florists and I still do freelance work (that's when another florist has a super busy week so I pack up my snips and off I go to lend a hand, often for large luxury weddings and events, or busy periods like Valentine's or Mother's Day)… but I wanted to put my own name to my designs and start my own journey. 
5) What inspires you and your work?
Oh my gosh – everything! A flower with a wiggly stem, my beautifully wild Welsh surroundings or a new technique I want to try out. Or something not even related to floristry; art, fashion, an interiors colour palette! 
6) Can you tell us a little bit about your design process? How do you get from idea to reality? What do you discuss with your clients, and how do you make their dreams a reality?
A far as weddings go, usually I receive either a colour palette idea or "vibe" from the couple. An important part of my job is getting to know my clients, I always offer a consultation where we have a good chat about their wedding ideas – the food, the dress, the venue, everything! This helps me build an idea of the look and feel they want for their day.
I had a recent bride who told me she wanted a bouquet that looked like she'd been wandering through wildflower fields in the south of France and had just happened to throw together her pickings into a beautiful bouquet. From this I know, she wants a loose shape and a romantic feel. It also influences my choice of flowers, smaller multi head flowers like cornflowers and nigella are perfect for creating that wildflower look, we don't want big formal flowers like roses or hydrangea for this bride. She didn't have a fixed colour palette but I took my inspiration from lavender fields, which were in season at the time of her wedding, so opted for whites, blues and purples with a few pops of contrasting colour. I included fragrant seasonal flowers like sweet peas as well as herbs, flowering mint and oregano - I always think scented materials really enhance a bouquet and form part of a memory of that special day.
© Leri Lane Photography
7) What sort of events and occasions do you create your beautiful floral arrangements for?
Mostly weddings, but any event is welcomed! I also do bespoke designs for funerals or luxury gift bouquets. I love making wreaths in the winter too – it always makes me feel super Christmassy!
8) Are you concerned about the environment? What do you do to be more eco friendly in your work?
This is one of the major issues I had with my college course, it was all based around plastic floral foam which breaks down into tiny particles, as well as being filled with chemicals! I think it is irresponsible to teach young florists to work only with plastic foam when there are so many ways to design without it.
I try to use eco options where possible. The floristry industry uses A LOT of plastic, so I try to reuse packaging where I can. I'm exploring more and more ways of designing without the need for floral foam, I'm a big lover of chicken wire for larger designs! And actually, I prefer the movement it creates within a design (think lovely natural airy shapes rather than a rigid form). There are getting to be more and more resources for florists looking to be more environmentally friendly; Facebook groups, courses and books. If you're interested in these techniques, Floribunda Rose have a new book full of foam free alternatives for creating floral designs – I'd highly recommend!
I also LOVE using local flowers! I have an amazing flower farmer nearby and I'm attempting to grow a few of my own too. Locally sourced flowers are fab in terms of reducing air miles, but also… The flowers are super fresh, simply stunning, and they add something a little different into designs. Win win!
9) What do you love most about your job?
I love making beautiful things! And seeing that look on someone's face when I delivery their wedding bouquet! Helping a couple to create their dream wedding is so fulfilling.  
10) What is your favourite thing about being creative?   
 Bringing people joy with my designs is just amazing!
11) What's one thing you can't live without?
My boyfriend, family and friends who are always supporting me. (… And homemade pizza! Obviously!)
12) I'm sorry, but I have to ask you this...Favourite flower? 
Oh my gosh – sooo hard to choose! At the moment I love scabious, larkspur and chocolate cosmo (actually does smell like chocolate) but it changes with the season… and sometimes even daily!
13) What advice do you have for any other creatives wanting to start their own business? 
Practice, practice, practice! Know your own style. *Try* not to compare your journey to others (easier said than done!). And know your worth, some people will battle you on price but beautiful hand crafted things cost money.
14) Where can we go to check out your beautiful work?
Website: http://www.emmajanefloraldesign.com
Instagram: www.instagram.com/emmajanedesigns 
Facebook: http://www.facebook.com/emmajanefloraldesign
Pinterest: http://www.pinterest.co.uk/emmajanefloraldesign/
THANKS EMMA! 
I absolutely loved interviewing Emma and hearing all about her journey into floristry! Please do go and check out her beautiful work at the links above, and get in touch with her if you'd like her to work on an event you're planning :-)
In the meantime, have an amazing day and stay tuned for my next Meet the Maker Interview in 2 weeks time! Eeeeek!
To keep up to date with my latest interviews and adventures in jewellery....and for 15% off your first order at Gemma Tremayne Jewellery, sign up to my newsletter at https://mailchi.mp/gemmatremayne.com/subscribe
Leave a comment
Comments will be approved before showing up.
---
Also in News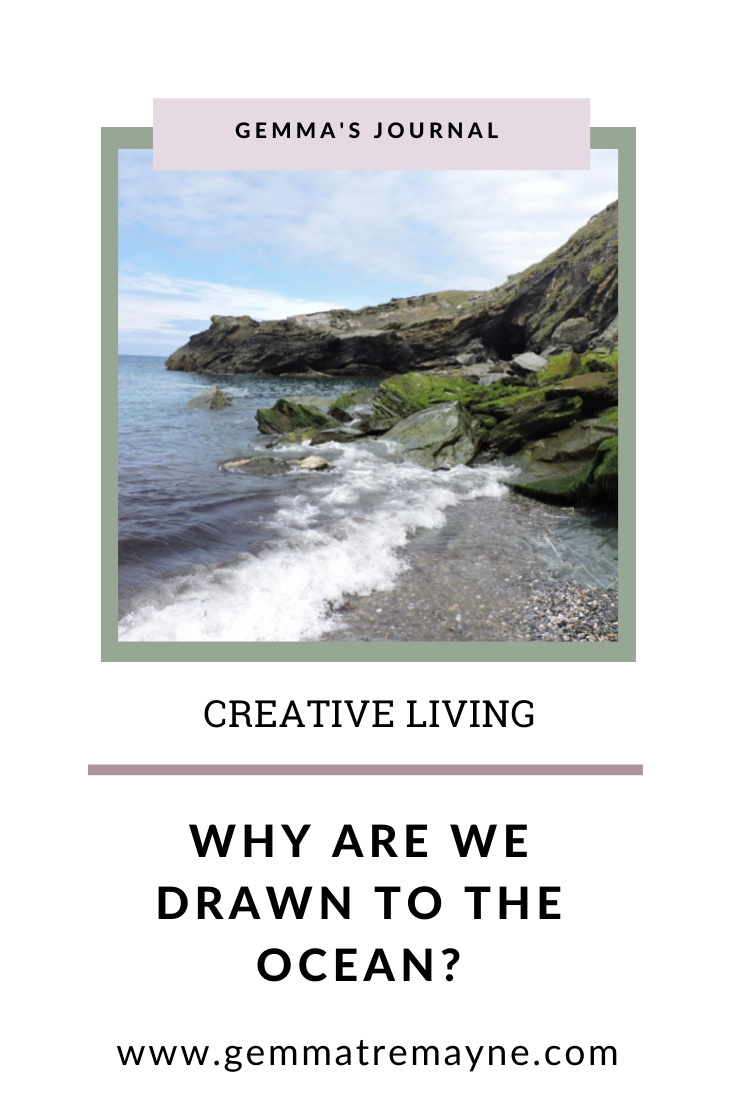 Life has so many ups and downs, just like waves in the ocean. Sometimes it's hard to see over some of the bigger waves, but being by the sea and seeing it's magnitude can make us realise how lucky we are to even be here at all.