MEET THE MAKER: Gemma Tremayne Jewellery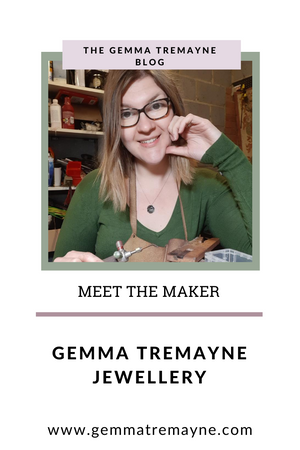 Meet the Maker: Gemma Tremayne Jewellery
So, for rather a long time I've been wanting to do a series of interviews of some of my favourite makers, to share their amazing work, and also the incredible stories behind what they do! And I'm SOOOOOO excited to announce that today marks the first of those interviews!

Of course, I can't really expect everyone else to answer my interview questions when I haven't answered them myself....So today, I'm doing just that...Yep, I'm interviewing myself! Ok, it might not be a conventional thing to do, but it seems like a great way to kick things off, and I'm hoping you'll learn more about me, and my story! 

Let's dive in, shall we? Here are the 'Meet the Maker' interview questions I would ask myself.... 
Above: Plumeria Flower ring, handcrafted in 100% recycled sterling silver.
1) So....Would you like to introduce yourself? Who are you, and what do you do? 
Hi! I'm Gemma, designer and maker here at Gemma Tremayne Jewellery! I produce eco-conscious, handcrafted silver jewellery, inspired by the beauty of the world we live in and by my love of nature, travel and adventure. I work exclusively in silver and gemstones with accents of gold, and produce designs with a very organic and rustic feel.
2) What did you do before you created Gemma Tremayne Jewellery?
Before becoming a jeweller, I actually used to be a scale model maker! Many people don't even realise you can do that for a living, and I have to admit it is a pretty niche industry! I studied Model Making at the University of Hertfordshire (having moved away from my family in rural Wales to study), and graduated in 2013 with First Class Honours. I then got a job as a model maker in London and moved from freelance job to freelance job before landing a full time position at an architectural model makers in central London. 
In the time I was model making, I seem to have made rather a wide array of items....Some certainly very weird and wonderful! One of the most surreal pieces I worked on was a fake mummified corpse which was used in the Chris Hemsworth film 'In the Heart of the Sea'. But I've been lucky enough to work on some high profile jobs for many clients, and have my work shipped internationally. Looking back, I'm not sure how I packed so much into just a few years! But I've made punch bowls for W London Hotel, many models for Foster and Partners (the architects behind The Gherkin in London), stunt guns for a Brad Pitt film, models of superyachts, tug boats, polar research vessels (including RRS Sir David Attenborough)....The list goes on and on! 
3) How did you get into jewellery making? 
Well, as much as I loved model making, something about it didn't sit quite right with me. At the end of 2013 I met a wonderful man from Suffolk who later became my Husband. I knew that as a girl from rural Wales, I didn't ever really want to settle for long in the city, and I certainly didn't want huge commutes. Once Matt and I started seeing more of each other, it became clear that although I loved model making, my job didn't really align with my values for the rest of my life. 

Apart from anything else, I was finding model making wasn't really stretching my creative muscles enough. I LOVE making things, but I also love going out and getting inspired and designing things too. A career in modelmaking didn't allow me any time at all to do anything creative in my spare time, and as someone who's always longed to have my own creative business, I found this really hard. Eventually, I found it so hard to balance everything that I started to get ill. I was diagnosed with chronic migraines and a severe hormone inbalance and started to become depressed. I knew I needed my creativity back and so I wanted to take up a new hobby. I bought a book on silversmithing for beginners, and the rest is history! I became absolutely addicted and knew it was something I wanted to explore more. 
It was time for a change. I left my job, and moved to Suffolk to be with my then boyfriend (and now Husband!). I got a job in design to tide me over, and I began working away at my new found passion....Jewellery making!
4) What made you take the plunge to start Gemma Tremayne Jewellery and sell your work? 
It was actually about 3 years of making jewellery as a hobby, before I decided I wanted to turn it into something more. I'd been making little pieces on and off whilst trying to deal with health issues and a new job, and I suddenly felt the time was right to start building collections and looking into selling my work. I'd had people approach me wanting to buy my work, and so I decided 'why not?'. I got my hallmarking license, and I've never looked back! I've wanted a creative business since I was about 15, so it felt like an amazing (albeit scary!) step to take. 
 5) What inspires you and your work? 
Whilst in London, I realised how much I reallllly missed nature, the countryside and the coast! So that's naturally what inspires my work, along with the idea of connection. My work is produced with the main aim to connect you to yourself, your loved ones and to nature, and bring balance and harmony to your life. Rather excitingly, I'm currently working on new designs for wildlife themed collections, to launch in 2020.
6) Can you tell us a little bit about your design process? 
My design process is soooo variable! Often, I will design a collection at a time with each piece in the collection carrying a similar motif. I find that is how I work best naturally. These pieces often start with a very rough sketch and then I begin to work in metal. Other times, I find myself making a piece that was very much unplanned, and a whole collection then materialises off the back of it. I love the whole design process from going out and seeking inspiration, all the way through to finalising details on a piece. Being able to control that entire process is what made me want to set up my own business, I just love the creative process.
 7) Are you concerned about the environment? What do you do to try and be more eco-friendly within your business? 
My concern for the environment is actually one of the reasons I left the modelmaking industry. I've always been a huge nature and wildlife lover, and the model making industry uses so many non-recyclable materials, with a lot of waste being sent to landfill. I just couldn't face being a part of that any more. 
So in response to that, not only does my work take heavy inspiration from nature, but I also use 100% recycled silver to make all of my pieces, and my packaging is 100% recyclable and recycled! 
 8) What do you love most about your job? 
For me, my favourite part of jewellery making is seeing my clients make a connection with a piece. It's absolutely amazing to hear the stories behind why people are buying my work. I love it when women are gifting themselves items when their baby is born, or when jewellery is bought to commemorate an achievement or big birthday, or engagement! That connection is what makes this job so rewarding! 
9) What is your favourite thing about being creative? 

Absolutely the freedom, and being able to see the world in such a unique way. I always feel that as creatives we often 'see' more than other people do, and I think the process of being able to be inspired by something and then turn that feeling of inspiration into a design and then a finished piece is just amazing! I can't imagine what my life would be like without that feeling of inspiration. I've always felt that being creative is much more a way of life, than it is a profession!
 10) What's the one thing you can't live without? 
My Husband! He's my best friend, and the reason I do so much of what I do. He always encourages me even when I'm feeling down, and we share many adventures together...Including the birth of our first baby, Oliver, who we had nearly 6 weeks ago!
I also couldn't live without my creativity, it's just such a big part of my life I don't know what I'd be doing if I wasn't creative!
 11) What advice do you have for anyone else wanting to start their own creative business? 


Mindset is EVERYTHING. It took me so long to realise that, but starting a creative business requires so much belief in yourself. My main advice would be to trust your own instincts, because nobody knows how to run your business better than you do! And also to not compare your journey with others. It's really easy to look at what other's are doing and compare that to ourselves, but we often don't know their full story....And it's our own journey that matters. 
Ultimately though, I believe that if you are being called to do something in life, you should just go do it! 
12) Where can we go to check out your work? 

So, you can find me at: 
@gemma_tremayne_jewellery on Instagram
Gemma Tremayne Jewellery on Facebook
and of course at www.gemmatremayne.com
So there we have it! That's my 'Meet the Maker' Interview! I hope you enjoyed reading it.....And stay tuned for the next post in the series, where I start introducing some pretty amazing and very talented guests! 
Have a great rest of the day! 
Gemma 
xxx
Leave a comment
Comments will be approved before showing up.
---
Also in News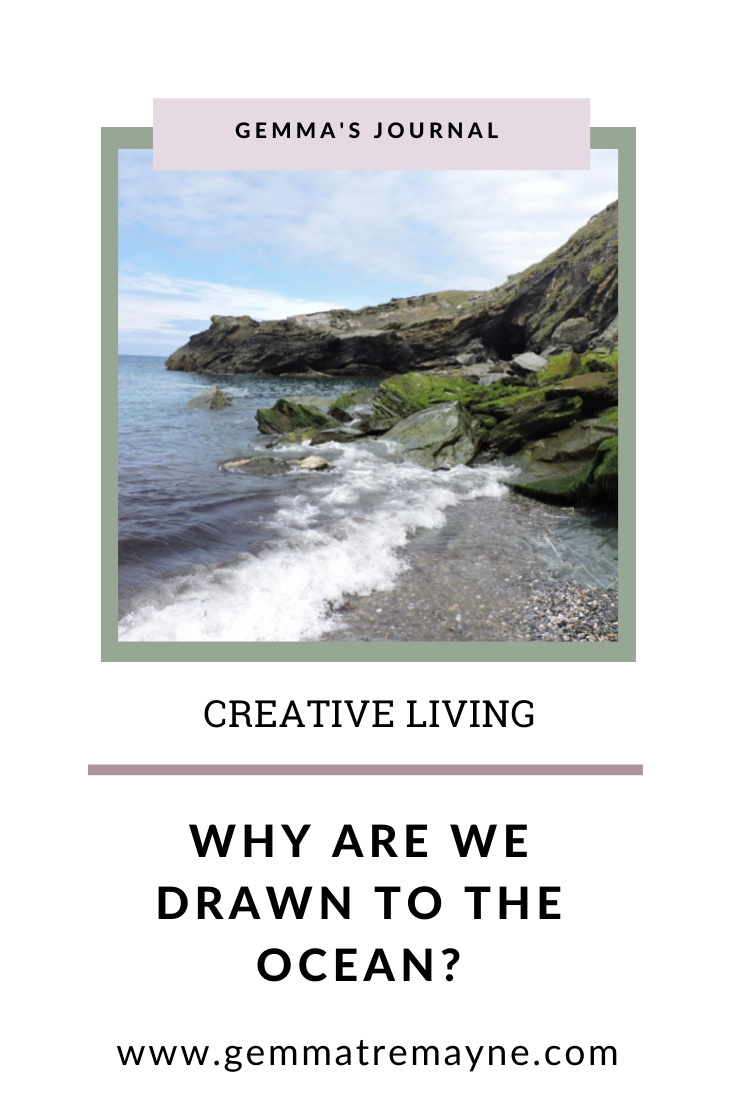 Life has so many ups and downs, just like waves in the ocean. Sometimes it's hard to see over some of the bigger waves, but being by the sea and seeing it's magnitude can make us realise how lucky we are to even be here at all.