Meet the Maker: Louise Pettersson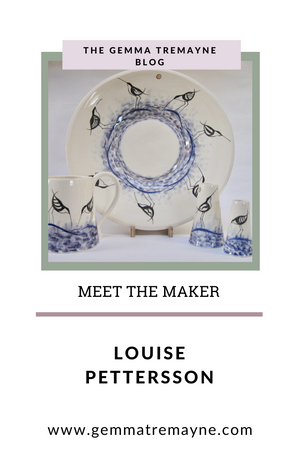 Meet the Maker:
Louise Pettersson Craftsperson
Welcome to interview number 5 of my Meet the Maker series!

Today I'm sharing my interview with the very talented Louise Pettersson.  I've exhibited alongside Louise at a couple of in-person events (remember those?) in the last 2 years, and I am more and more in awe of her work every time I see it. Louise is not only a talented ceramicist producing illustrative pieces with stunning designs, but she also makes leather masks which are quite unlike anything I've ever seen before!

Ever since I decided to do this series, I knew I wanted to interview Louise! And she kindly agreed :-) 

Let's dive straight in, shall we?
1) Hi Louise! Thanks so much for being here! I'm super excited to be talking to you because I'm a massive fan of your work! So first things first.... Would you like to introduce yourself and your work?
Hi Gemma! Well, I am a maker & artist based in Suffolk, England. My work is primarily based in ceramics and leather work, it is inspired by the things and places I love which is the Suffolk countryside and all of its wildlife. I am also a massive nerd and love anything to do with fantasy and history. These are my primary creative sources. 
Louise's stall at Clare Priory Craft Fair (This is a must-visit if you live locally, and happens every July) 
2) So tell us, What did you do before you set up your business?
Before I set up my business I was home educated and enrolled to West Suffolk College to study their 1
st
diploma in Art & Design I then went on to their National diploma in Art & Design after which I applied to Brighton University to study 3D materials practice.
West Suffolk College was one of the best times I've ever had, the tutors and technical staff were truly excellent they not only helped my creative process but gave me confidence in my work and as a person. I can't thank them enough.
3) One of the things that really draws me to you as a fellow maker is how eclectic and broad ranging your skills and work are! I absolutely adore both your ceramic work and your incredible leather masks! How did you get into each of those practices? And can you tell us a bit about the materials you use?
I have always loved making things and the processes involved in making them so I have great difficulty choosing one medium to work in.I discovered the properties of leather while specializing in plastics at University, I much preferred it as a material and the aspect that it would eventually degrade unlike the resins & silicones I was working with at the time was very appealing. I also specialised working with heavy metals, which lead me to do a lot blacksmith work, combined with my interest of living history I used it to create historical replicas of leather working tools & stamps. I used these tools to embellish a more meaningful aesthetic onto my leather masks which where born out of history, folklore & fantasy. The tools also served for making many knife & sword scabbards for historical recreation, I also use them to stamp my ceramics handles. I am very lucky that my parents Leon & Jenny Pettersson are potters so I've grown up with clay and have a great fondness for it, not only its sculptural ability but its illustrative one too. I have done a lot of block print work, whose style of imagery heavy influences my decorations. Ceramics allows me to physically make the piece as well as illustrate it and I adore that balance.
4) Can you tell us a little bit about your design processes? How do you get from idea to reality?
I see it in my head, a flash of images, mixed with colour and feeling. It can be a place or normally its just a feeling filled with colour and imagery. Then comes the structure of how to design it in my head. Then I draw it out, it changes once I start making I still have the images and feeling of the piece going through my head but its now mix with the material I'm working with, I then balance the natural qualities of material and my intent for the piece to get the outcome. 
Louise's Blue Stag Collection...Such a magical design! 
5) So, what made you take the plunge to sell your work and start a business? Is it something that you've always wanted to do?
I've grown up watching and being involved my parents business they have always been self employed ever since they left university so I knew relatively how it worked and what was evolved, making things & art work have always been my life I can't not do it. So it felt very natural starting my own practice.
6) What inspires you and your work? Is there a certain inspiration that you are always drawn to?
Movement, action, feeling, as I mentioned above countryside & wildlife are big ones. But above all its rabbits, I call them hares to be more arty sometimes but really they are all secretly rabbits. As a child I grew up with them and have never gotten over them.
Black Hare Bowl 
7) I love being creative and I'm sure you feel the same! What is your favourite thing about being creative?
The energy and excitement, I love creating, I love pulling something from my head into the world, I love that people enjoy what I make it really is incredible; it allows me to keep on doing what I love. So a massive thank you to all of you that support my work!
8) Are you concerned about the environment? What do you do to be more eco friendly in your work?
I lose sleep over the environment, a big one for me is packaging. I work part time for a local ice cream business, which has a farm shop so I save and reuse as much of the plastic, boxes and packaging materials as I can for my own business. But I am aware there is always more I could do.
Dragon Mask in Progress
9) What do you love most about your job/practice? And do you have a preference over your mask work or your ceramics? Or do you find you have phases of doing one and then another?
I like variety, being to be able to switch between them both, it keeps them new and fresh which is very important. It can be very easy to fall into a rut and blindly make without creating. I also love meeting people at events, its inspiring to hear about different individuals creative practices and skill.


10) What's one thing you can't live without? 
Family, I can't live without my family & friends. Workshop: I can't live without my scalpel & cutting mat. Also Books, Taylor Swift and lately Netflix.
11) What advice do you have for any other creatives wanting to start their own creative business?
Keep following what you love and that passion will come through in your work. Time is very important it takes time to develop and time to set up a practice be patient. Not everything needs to be a masterpiece when things go wrong it can actually be the most helpful thing to happen. Do not compare yourself to others, just don't.
12) So finally.....We're all dying to know...Where can we go to check out your beautiful work?
You can order work through my Website: https://www.louisepetterssoncraftsperson.co.uk
Facebook page: Louise Pettersson Craftsperson
Instagram: @louisepettersson_craftsperson
And Email: louisepettersson@rocketmail.com
Thank you Gemma! I've really enjoyed taking part in your Meet the Maker!
 THANKS LOUISE! 
It's been so insightful to hear about Louise's beautiful work and what really inspires her! Isn't her work just incredible? I feel like each piece of Louise's work really tells a story, and perhaps that's why I connect with it so much.
I also really love Louise's advice for anyone starting a creative business. I think following your passions is really the most important thing. It can be easy to be strayed into making things that you think people want to buy, even though it's not necessarily what's true to yourself as a maker. What inevitably ends up happening is that the piece loses its appeal, because it doesn't have the most important ingredient...Passion from the maker! 


I hope you enjoyed my interview with Louise, and I do urge you to go and check out her work...You won't be disappointed!
Bee Mugs
To keep up to date with my latest interviews and adventures in jewellery....and for 15% off your first order at Gemma Tremayne Jewellery, sign up to my newsletter at https://mailchi.mp/gemmatremayne.com/subscribe
Leave a comment
Comments will be approved before showing up.
---
Also in News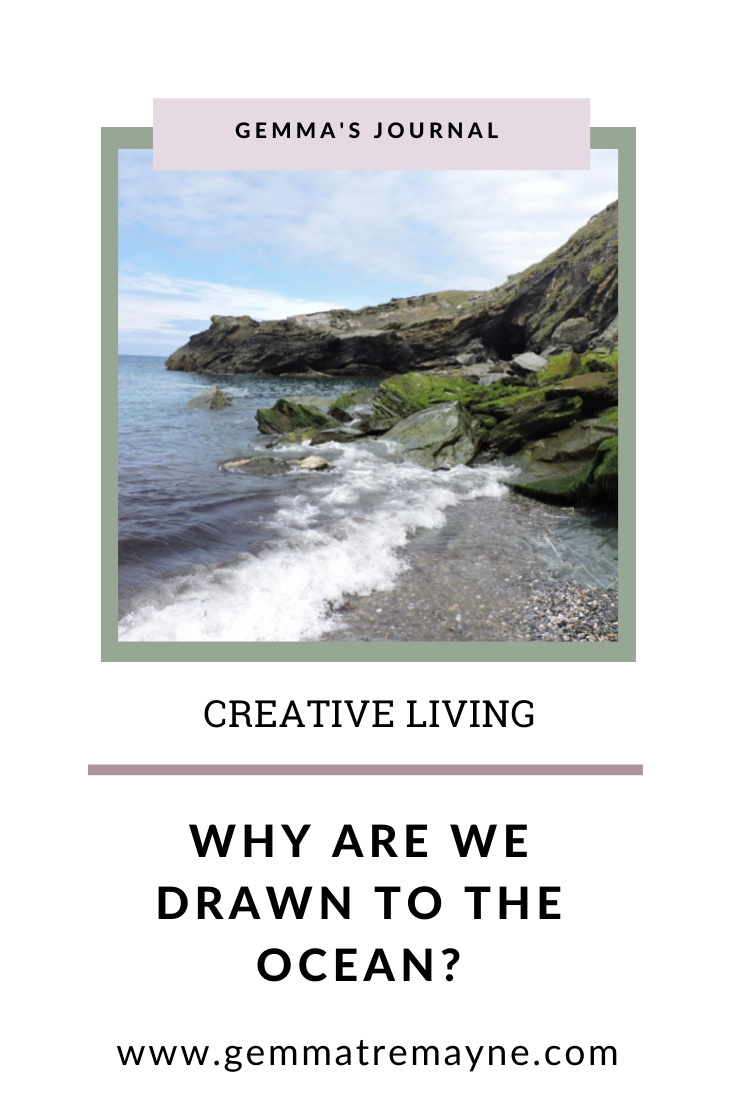 Life has so many ups and downs, just like waves in the ocean. Sometimes it's hard to see over some of the bigger waves, but being by the sea and seeing it's magnitude can make us realise how lucky we are to even be here at all.