MEET THE MAKER: New Town in the Wood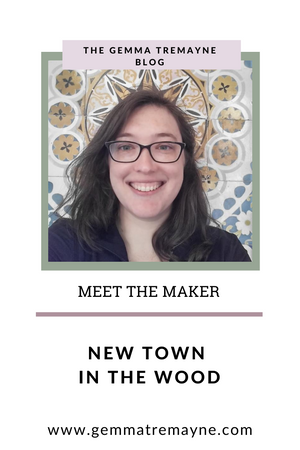 Meet the Maker: New Town in the Wood
So we're already onto the second of my fabulous Meet the Maker interviews, and I'm sooooo excited about this one! I can't wait to share it with you! 

Today I'm sharing my interview with Sophie Connor of New Town in the Wood, who is an amazing watercolour artist based in London! We're talking all about her journey as an artist, her career as a paper conservator, and what inspires her stunning and unique artwork!

Let's dive straight in, shall we?
1) Hi Sophie! Thanks so much for being here! So first things first.... Would you like to introduce yourself and your work?
Hi Gemma! Thanks for having me!
I'm Sophie, I'm a watercolour artist who used to be a paper conservator. I make abstract and nature-based pieces, usually incorporating some element of the city (often London because it's where I live and grew up, but I'm open to requests).
In my abstract work, I work in beautiful colours and I like to have a sense of order, mixed with an element of chaos. I like to embrace the unique behaviour of water to give my work that little bit of unpredictability.
My nature-based work is much more centred on place. Sometimes that means painting on old maps (well, prints of maps - given my previous career I can't bring myself to paint directly onto an old map!), sometimes it means including the urban environment around the nature, like making portraits of the rebellious little plants that grow in cracks in walls and paving. I also offer commissions for lovely happy portraits of houses and buildings, as well as bespoke projects for private clients.
Binary II, 2019: My triangle paintings are an ongoing series that I call 'Separate and Connected'. These pieces are meditative for me, an opportunity to go with the flow and not get too caught up in my thoughts. The shape of them is determined as I paint. Then I use lines to connect the centres of the triangles and see what shapes emerge. There's no predicting how they'll come out when I start. Everyone interprets them differently, like trying to see shapes in clouds.
2) So tell us, what did you do before you started New Town in the Wood?
I was a paper conservator, mostly at big London institutions you've definitely heard of, preserving and repairing the nation's paper-based heritage, making it safely accessible. I did that until the end of 2015.
It definitely had its upsides - I got to see A LOT of art, and a really wide range of it, that I probably wouldn't have spent so much time with otherwise; behind-the-scenes access to museums was amazing, walking through the empty galleries before and after opening was one of my favourite things; and there are few things that compare to the immense satisfaction of washing the age discolouration out of an old watercolour and giving it its contrast back, or taking something so fragile it can't be handled and making it functional again. But having said that, being able to create a new piece of art out of nothing, and then have the client tell you they're crying happy tears because it's so beautiful does win that particular battle.
There were also some big downsides to it for me that meant I needed to take a step away from it, and I haven't gone back yet. Maybe one day I'll take it up again, but it's not the right thing for me at the moment. For now I view it as my service to the nation, I've done my bit and can move on to other things.
I do carry elements of my conservation life into my work now. I care deeply about how my pieces will age and last, so I only ever use professional grade paints from the highest two lightfastness categories, and I only paint on acid-free paper. Conservation gave me a real affinity for paper and water. I know them, how they work together and react to each other, after my years of wetting and drying scarily valuable artworks. It also left me with a fascination for the materiality of art and how the methods and materials we choose to use affect the outcomes of our work.
3) The name of your business intrigues me! Tell us about the meaning of the name 'New Town in the Wood'...
It's a translation of the name of the place where I grew up and currently live - Stoke Newington. I wanted a name that said something about who I am, and I'm very connected to place - as is quite a lot of my work - and I also like to explore the connections and boundaries between the urban and the natural in my work so it seemed to fit that as well (it hasn't been part of a wood for several centuries, though there are some lovely little parks and a nature reserve that is also a cemetery).
 4) So tell us, how did you get into painting and design? Have you always painted? 
I guess I've always made stuff. Not always painting, but always something, and I'm happiest when I get to use my hands for something other than typing in my work.
I made a whole portfolio while I was supposed to be revising for my GCSEs, which I then used to get onto an A level art course despite not having done Art GCSE (school made me choose between art and music, I chose music because I could definitely get an A* in it, art was more subjective and risky - my art teacher refused to talk to me for 2 years!).
I did an art foundation, but didn't enjoy it at all and naively thought that that meant I wasn't meant to be an artist, so I stopped making and studied art history, then went into art conservation.
I insisted I wasn't creative for years, but my creativity would come out in little bursts, I'd get really into making a quilt, or a mobile, and find myself unwilling to think about anything else.
When I decided to take a break from working in conservation, I didn't really know who I was without it and my partner encouraged me to start creating and making things (first gently, then he assigned me a project!) and after that I slowly started drawing and painting again.
Since then it's been a little bit of a battle to find my voice, I think that will always be an ongoing process, but in the last year or so I've been noticing that my work feels more like me.
Waterlilies - Regents Canal, 2020: This is one of a series of map paintings, the first four were created for the Regents Canal: Unnatural River exhibition I was invited to take part in for London National Part City Week in 2019. The idea behind them is of nature transforming the canal from its industrial past, growing over it, but the history of the canal is still visible, part of its present and future. Map image courtesy of London Borough of Hackney Archives.
5) What made you take the plunge to sell your work and start a business?
It was kind of unintentional! I was suffering from burnout from conservation, and I literally did not know what to do with myself next. After my partner assigned me a project, we decided it would be helpful for me to have a bigger project so I could get a feel for the mechanics of setting up and running a business, to see if I liked it (because I really did not like having a boss). The project had only one goal: sell one card (I'm happy to say that one was a success!).
I started painting more and more, initially as a creative flow exercise to get my brain in the right space for designing more cards, but I realised I liked it more than the cards, so here I am. I'm definitely still building my business, but I like where it's going now.
6) I absolutely love the vibrancy of your watercolour work! The colours are incredible! Do you work exclusively in watercolours? Or do you have any other go-to mediums too? 
If I'm painting, it's in watercolours. I love them, their immediacy, how they flow and produce surprising effects, and I love showing people that they don't only have to be delicate layers in landscape paintings, they can be intense and striking. I like to play with their delicacy and make big translucent layered pieces. I sometimes wish I could varnish my pieces like you can with oils and acrylics, as varnish saturates the colours and makes them appear more intense, but paper and varnish do not age well together and I'd rather my pieces age well. 
Plus paper and water have a special place in my heart because of my previous career. I developed an appreciation for the interactions between them and I really want to take my favourite bits of conservation and incorporate them into my work more in future. 
When it comes to other media, I do have a desire to do some indoor murals at some point - one of my geometric colour shifts - so I might stretch to some clay-based low VOC house paints for that, and I'll take any excuse to order a bunch of colour charts.
Heatwave I, 2020: This triangle painting is called 'Heatwave I', I tend to name these paintings after either whatever I was thinking about when painting them, this was painted in the August heatwave this year and may just be my favourite so far, it has a balance and an economy of form to it that I love.
7) What inspires you and your work?
Generally, across all my work, my main themes are water, nature, and connection, with connection being the one overarching theme. Connecting the separate, connecting with my environment, connecting with the people that buy my work. It's all about connection in some way for me.
On the abstract side it's water, the interactions of paper and water, accepting unpredictability and chaos, the connections between shapes and layers, and being accepting of mistakes and making them work for me.
On the figurative side it's urban nature, buildings, a sense of hope for the future of cities, and the idea that we're not really separate from nature in cities, we're part of it, it's all around us and it us. Plants in cracks are everywhere, like the start of a tiny rebellion, nature thrives in man-made canals - I enjoy taking part in efforts to help that last one along a bit with Wildlife Gardeners of Haggerston. I'm also really interested in food as an area to explore, I'd like to make more time for it in my art because I love making, eating and reading about food and cooking, which are also about connection really (my top read right now is the Vittles newsletter, so good!).
Writing this, I realise what I like most are the edges, the places where different things meet - the urban and the natural, the land and the water, two colours that start to sing when they flow into each other, the layers that bleed into their neighbours when I'm too impatient to wait to paint the next one, the dark edge of a pool of dried watercolour. I love the twilight and the equinox. Edges have so much potential. Give me the edges and the in-between times and I'm happy.
8) Can you tell us a little bit about your design process?
With the abstracts, it's very much 'try it and see what happens'. I'm happier with the resulting pieces when I can manage to stop thinking and just let my hands make the decisions. I try to embrace the marks I didn't mean to make, or the ones that occur through chance interaction of the medium I use. That chaos and unpredictability is very important to me, it helps me to let go of the idea of perfection and just create. 
For commissions they're usually very client-led, and clients tend to have a strong idea of what they want when they come to me - for example I've made a few paintings for children's rooms and the brief is along the lines of 'I'd like [child's name] in colourful lettering, and a [globe/rainbow/dinosaur]', then I mock something up digitally and send it to the client for comments and change requests. I really like the collaborative aspect of it, and the chance to work on something I wouldn't come to on my own. The building portraits are a little more straightforward because it's working from photographs, and I get a lot of joy from how delighted people are to see their house as a painting.
For exhibition pieces there's usually a theme, so I have a brainstorm, then I put it down and let my brain mull it over in the background for as long as I can. A good idea will come to me, usually as I'm falling asleep, or during savasana when I'm doing yoga (that time is magic for ideas and realisations). Then I sketch it out, canvas opinions, and keep developing it. If there's a way to include some nosing about in archives I'll usually go in that direction, just because I enjoy them, I like incorporating a sense of history in my work, and it's another way I can use my very niche skill set in my art. 
Home Portrait (shared with permission): Whatever weather the photos are taken in, I try to make these building portraits a little bit sunny and colourful. I send out photo requirements and ask that clients tell me any little details they really want left in, or plants they'd prefer in bloom. 
9) Are you concerned about the environment? What do you do to be more eco friendly in your work?
I am SO concerned about the environment. Obviously a fair proportion of my work is about it, but I also go to great lengths to make my work environmentally friendly and as ethical as it can be generally. I'm on the lookout for ethically sourced mica paints and ethically sourced gold leaf for making shell gold, if anyone out there knows of any suppliers they'd recommend.
All my packaging has always been recyclable, recycled, or compostable, my paintings go out wrapped in acid-free tissue paper (because I know it can take a while to get things framed sometimes and they may sit in their packaging for a while), packed with scrunched up recycled tissue paper to stop them knocking about in transit, in recyclable cardboard boxes, sealed with paper tape. If you ever get plastic from me, it's because I'm re-using packaging that came from my suppliers. 
I buy very local whenever I can - my painting supplies come from my local art shops so I can walk or cycle to pick up orders, the printer I get my giclee reproductions from is less than 10 minutes' walk from my house, the scanning company I use are a 15 minute cycle away. Other supplies are harder to find quite so locally, but I make sure I buy them from independent UK businesses. I want everything I do to have a low carbon footprint and to support the society I want to see.
I don't use toxic solvents - a large factor in my choice of painting media - and I don't use acrylics because they contain microplastics, some of which would end up in the water supply from brush water.
10) What do you love most about your job as an artist?
It's truly freeing, I get to set my own hours and I can work around my back pain and my energy levels - I suffer from chronic back pain and had ME/CFS in my early teens and while I consider myself 'recovered' from the latter, that comes with a lot of caveats to do with needing a lot more sleep than everyone I know, and having to say no to a lot of things to preserve my energy.
11) What is your favourite thing about being a creative person?
 I love that every painting, every drawing, every single thing I make tells me a little bit more about who I am and what I value. It's a real contrast to the work I did in conservation, because if you could see anything of me in that work, it meant I was doing it wrong. I love putting my soul into my work and seeing people connect with it. 
12) What's one thing you can't live without?
I'm going to assume that my basic needs are met in this scenario and go with stories. I discovered during lockdown that I can live without all sorts of things I thought I needed, but good stories are what got me through it. Whatever format they're in - film, tv, books, audio, I find a good story so soothing. I love to immerse myself in a story and give my anxious mind a rest as it's swept along in the narrative.
13) What advice do you have for any other creatives wanting to start their own business? 
 Running my own business is the biggest self awareness and self-improvement project I ever unknowingly signed up for. Be prepared to explore every doubt, every financial myth you don't know you believe, every procrastinating impulse you have. You will face yourself every day and know that you are the only one responsible for making this thing work, but every victory will be so gratifying because of that. 
Also it's worth investing upfront in some courses - the British Library Business & IP Centre have some excellent ones at great, subsidised prices, and check your local council website for small business support.
14) Finally (and super importantly!) Where can we go to check out your beautiful work?
My website is: 
Im on Etsy at:
https://www.etsy.com/shop/NewTownInTheWood
You can find me on Instagram at: https://www.instagram.com/newtowninthewood/
And I'm on Facebook at: 
https://www.facebook.com/newtowninthewood/
 THANKS SOPHIE! 
So that's a wrap! What an amazing interview that was, eh?!
I'm thrilled that Sophie agreed to do this for me, and I've learned soooo much from my interview with her! I particularly loved talking about what inspires her work, and I think her advice for creative business owners starting out is something that all of us as business owners can relate to. Truly inspirational!
Sophie's work is not only beautiful, but has so much depth (I have a particular fondness for her waterlilies painting!), so please do go and check it out and follow her on Instagram where she's most active! 
In the meantime, have a fantastic rest of the day, and stay tuned for yet another amazing Meet the Maker Interview in 2 weeks time! Eeeeek!
Ida's Rainbow, 2020 (shared with permission): This was a bespoke commission for someone who saw my lockdown rainbow and wanted a version of it for her daughter's bedroom. I offer these rainbows with or without names and each one is a hand-painted original. 
To keep up to date with my latest interviews and adventures in jewellery....and for 15% off your first order at Gemma Tremayne Jewellery, sign up to my newsletter at https://mailchi.mp/gemmatremayne.com/subscribe
Leave a comment
Comments will be approved before showing up.
---
Also in News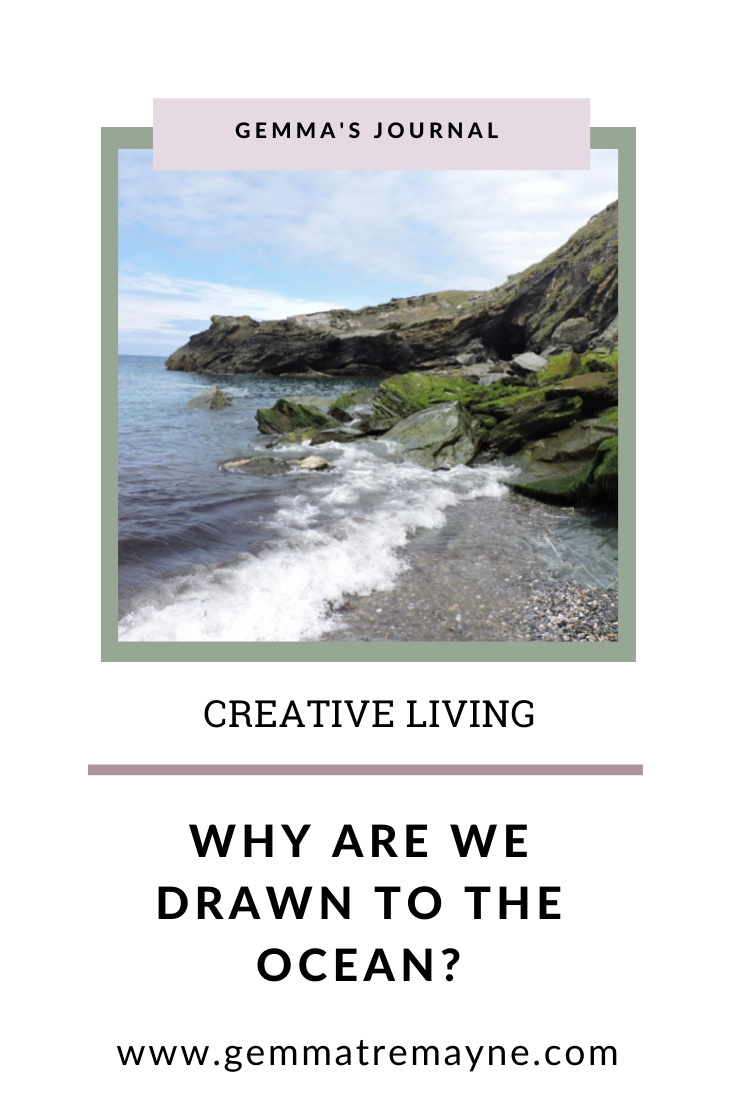 Life has so many ups and downs, just like waves in the ocean. Sometimes it's hard to see over some of the bigger waves, but being by the sea and seeing it's magnitude can make us realise how lucky we are to even be here at all.