Meet the Maker: Shawnee Vale Art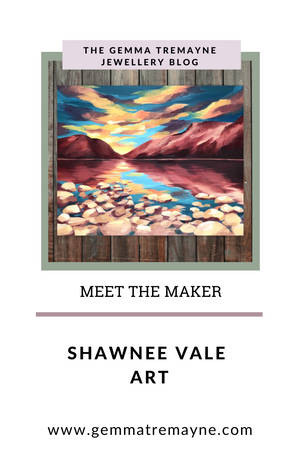 Meet the Maker:
Shawnee Vale Art
Welcome to interview number 6 of my Meet the Maker series!

Today I'm sharing my interview with the incredibly talented Shawnee Vale, an artist who I actually studied at University with, and who produces the most AMAZING landscape oil paintings!  When you check out Shawnee's work, I think you'll definitely agree that she has a very unique approach, which is just absolutely stunning!


Let's dive straight in, shall we?
1) Hi Shawnee! I absolutely love your work! Thanks so much for being here! So first things first.... Would you like to introduce yourself and your work?
Hi Gemma! Thanks for having me. I'm an artist currently living in Hull who dips into all kinds of creative endeavours, but my main focus is on creating vivid landscapes in oil paint. I love to pair vibrant, unusual colour palettes with my love of travelling and the natural world! 
'Tunnel', 20 x 30", Oil on Canvas 
2) What did you do before you started working as an artist? And what do you do alongside your artwork right now? 
I trained as a prop maker! I studied it in Uni, started in film and TV around London after I graduated, then transitioned to theatre props when I moved to Yorkshire. I currently work for a pantomime company, so my day job is covering Cinderella's carriage in glitter and gluing jewels to Aladdin's lamp!
3) So tell us, how did you get into painting? Have you always painted, or is it something that you've taken up more recently?
I've always been intensely into painting, but gravitated more towards acrylics or watercolour when I was younger. It's been a long journey through a lot of different styles and media, but I've only picked up oil paints in the last year. I think there was a block in my mind about oils only being for 'proper artists', so when I finally allowed myself to use them it was like I unlocked a kind of confidence and certainty I hadn't felt before, and I've been obsessed with oils since then!
4) So what was it that made you take the plunge to sell your work/start a business?
I've always been very hesitant to share my work publicly – it's been a bit of a mental block for me. Then lockdown happened, I was going a bit mad being stuck inside, and throwing myself into painting gave me a project and a purpose. One day I decided I'd put my landscapes online, so I created a facebook page and within a few hours 3 people had contacted me looking to buy my work, so I thought… Why not? Actually making money from doing the thing I love most in the world seems crazy to me, so I feel very lucky for all the support!
'The Path Forward', Oil paint on Canvas textured paper, 16 x 20"
5) I absolutely love your oil paintings! The colours and composition are incredible and quite unlike any other artist's work I've ever seen! Do you work exclusively in oils? Or do you have any other go-to mediums too?
 
Thank you! For my landscapes I have just been working in oils – the slow drying times, creamy texture and vibrant colours very much suit the subject matter and let me do what I want to. I could never exclusively stay with just one medium though! I get too excited by new materials. I love using fineliner, watercolours, acrylics, and doing digital art on my ipad for my non-landscape work, which I think keeps my skills sharp.
6) Can you tell us a little bit about your design process and style? You have a very distinctive style! Is it something that you've developed over time? Is it just your natural way of painting? Why do you paint in the way you do?
I've fallen into a process that works for me now, after a bit of trial and error! Firstly is working out my subject matter and finding any references – a lot of the time that's chosen by wherever I wish I could travel to at the given moment – and then I'll sketch out the composition in Procreate on my iPad. I've got a huge love of colour, so doing a digital sketch allows me to try out a few colour schemes before committing one to the page.
Style-wise I follow what comes naturally, but I see every piece as a way of experimenting with something new. It stops me from getting complacent, I think. Each painting is answering a question to myself; it can be something as simple as 'how can this colour palette translate to this landscape?' or more complicated, like 'how can my paint application better affect the mood I want to portray?'. It's a constant challenge and keeps me moving forward!
'From the Edge', Oil on Canvas textured paper, 16 x 20" 
7)  What inspires you and your work, and why are you drawn to landscapes in particular?
Landscapes are very much a lockdown thing – I'd actually never done them before! I have a huge passion for travelling, and suddenly being stuck in the same place for months on end made me itchy, so if I couldn't visit these places, at least I could create them in my paintings! A lot of my reference images are places I've been, and the rest are based on places I'd like to go, so it's very much a case of wanderlust. I've always been amazed by the incredible sights around us in the natural world (as the 1000s of sunset photos on my phone can testify to…), so translating that into art is my way of documenting that amazement.
8)  Do you work from photos? Or from your imagination? Or perhaps a combination of both?
I usually like to have a reference image or two to take inspiration from, either for the full composition idea or just using elements from it to stitch together. My paintings never end up as a copy of the image – for a start, the colour scheme is usually thrown out the window! – but I like to have some grounding in reality. I want every painting to feel like somewhere you would want to visit, whether it exists or not.
'The Path Through', Oil on Canvas Textured Paper, 16 x 20"  
9) Are you concerned about the environment? What do you do to be more eco friendly in your work?
I like to be as environmentally friendly as I can, but I'm still in the process of learning! Having worked in the film industry I've seen SO much wastage, so I'm very keen to avoid contributing towards that as far as possible.
Packaging up my paintings to post is probably the biggest environmental impact I have, and at the moment I'm using entirely packing materials that are either recyclable, or I am recycling from packages I have received (apart from the tape, but I'm working on that!). It doesn't always look quite as slick, but is secure and means nothing goes to waste!

10) What do you love most about your job as an artist?
Sending things out into the world! It's a strange sort of connection you have with people who buy your art. Sometimes it's friends and family that take your work on, sometimes it's a complete stranger. You make something, usually not knowing where it's going to end up, you just make it because you love it and have this bizarre need to pour hours and hours into creating something just because you think it needs to exist. Then someone else sees it and agrees - yes, this thing did need to exist, it speaks to me, and now it needs to be in my home. That bond with people has never been more important and relevant than at the moment, I think, and it's such a cool thing that's so unique to creative professions.
11) What is your favourite thing about being a creative person?
There's always a reason to get up in the morning and something new to discover. I think that as children we all have this incredible sense of wonder that comes from everything new we see and do in the world, and that tends to diminish over the years as we have less and less new experiences to get excited by. Being a creative person is kind of like a counter to that. We create our own new experiences and it keeps that energy and excitement going throughout the course of our lives!
12) What's one thing you can't live without?

Ahh, this is such a hard question! I think it would have to be, and this is very cliché, my partner. He's absolutely my rock, encourages everything I do, and is so passionate and driven with his own creative endeavours (in musical theatre) that I can't help but be inspired. As a bonus, he's a cracking cook too!
…
Or maybe it's just my oversized, paint-splattered, threadbare art hoodie. How some people paint all neatly while dressed in their favourite outfits I will never understand.
13) 

What advice do you have for any other creatives wanting to start their own business or take the plunge to sell their work?

Advice is always so difficult, because everyone's journey is so different, but here's what helped me. I'm a chronic over-thinker, so for anyone wanting to take the plunge but asking themselves "Am I good enough? Is my work enough? Will it sell?", just… Ignore the inner critic and go for it! It sounds basic, and is the hardest thing in the world to put yourself out there, but even if it doesn't get the reception you'd hoped it's not the end of the world and doesn't reflect on your personal value or diminish the value of your work.

My favourite quote is from the cartoon Adventure Time, and it's: "Sucking at something is the first step towards being sorta good at something". That really stuck with me. So if you put yourself out there it's either going to go brilliantly, or some things are going to suck, and that's just another (huge) step towards it going brilliantly. Win win!

 

 
Shawnee Vale, Artist 
14)  What are your future plans for Shawnee Vale Art, what do you hope to accomplish in the future?
I'd like to focus 2021 on creating some themed collections now I've settled into what works for me, and of course get more work into galleries! The dream is always to be able to do the thing you love full time, so that's something that is constantly motivating me to work harder. I'm excited to see what the New Year brings!
15) 

Where can we go to check out your beautiful work? 

 

 

 And that's a wrap! 

Thank you so much Shawnee for agreeing to take part in my Meet the Maker Series. I have to say, I found it hugely inspiring to interview Shawnee! Her advice for other creatives is incredible, and I just love how cohesive, consistent and beautifully unique her work is. A true artist indeed!

 

 

Have a great day!

Gemma 

xoxox

 
Leave a comment
Comments will be approved before showing up.
---
Also in News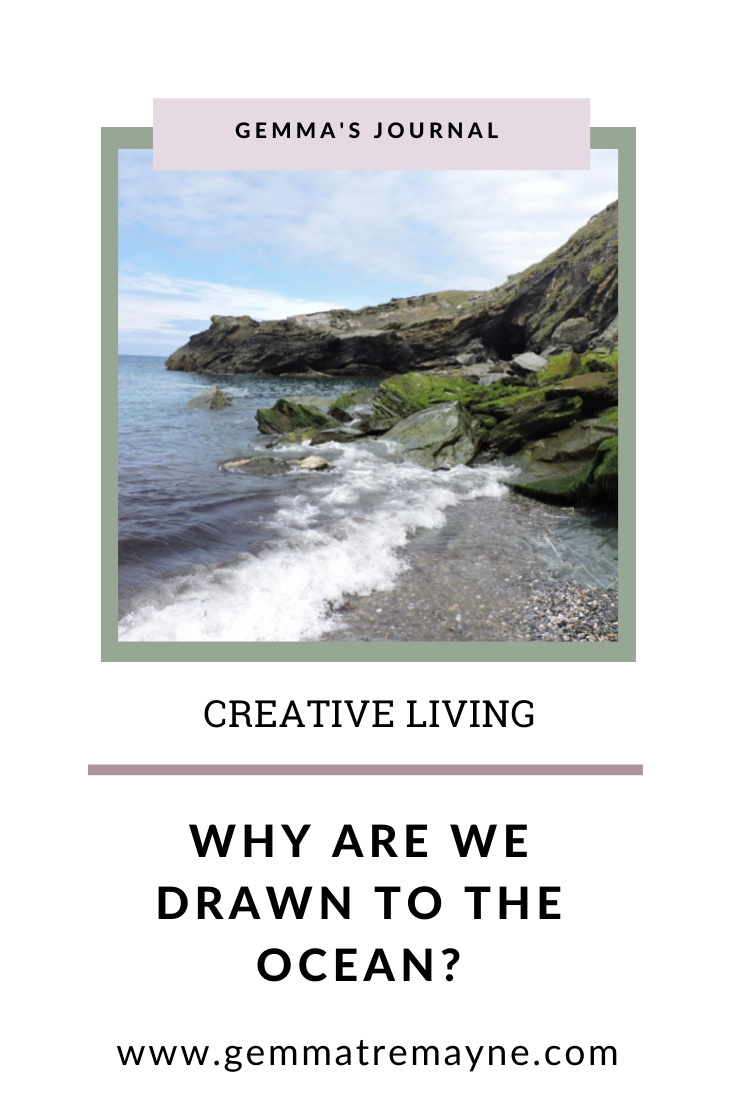 Life has so many ups and downs, just like waves in the ocean. Sometimes it's hard to see over some of the bigger waves, but being by the sea and seeing it's magnitude can make us realise how lucky we are to even be here at all.