What is a 'Soul Place'? And 5 ways to know if you've found yours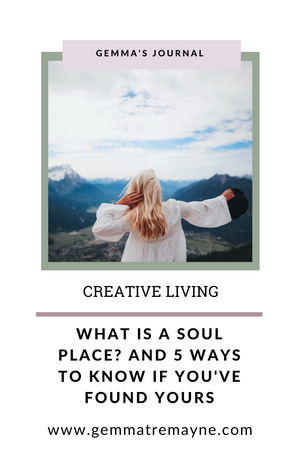 Anyone who follows me on Facebook, might have seen this week that I found an amazing quote about 'Soul Places' on Pinterest, and reposted it to my Facebook Page (because I loved it so much!). It went like this: 
Pretty cool, huh? Well I'll admit, when I found this, I'd never even heard of a 'Soul Place', but it got me thinking and doing some research...And here we are! I've never really considered myself a particularly spiritual person, but the more I go through life, the more I think that perhaps I might be. I'm certainly not religious, not because I don't believe (because I definitely do), but more because I haven't found a religion yet that works for me. I am however, finding myself more and more believing in a path to spiritual enlightenment, and I find the whole subject pretty fascinating. In fact, I seem to use the word 'Soul' more and more often these days, usually when I'm referring to something I'm particularly passionate about, and very often in reference to creativity. I do without a doubt believe that a good piece of design connects with our soul, often on a level that we can't really put into words. 

I guess looking back on my life so far, there have been a number of moments where I've felt really connected to my soul, I just probably haven't realised it at the time. When I was younger, I was bullied in school, which led to a pretty miserable upbringing. Every evening after school, I would shut myself away in my room, put music on my Mp3 player, and draw and paint. I used to draw my favourite places, favourite people, and places I wished were real, or that perhaps were real in my head. It was pure escapism. I think this part of my life helped me really connect my soul with my creativity, and it was probably a really necessary part of my creative growth.
I have always tried to produce creative work based on emotion and feeling, because those things are very important to me, and I think that's even more true of my jewellery work.
Jewellery is all about emotion, feeling and individuality. I think a good piece of jewellery really should speak to your soul, and that's why the idea of a 'Soul Place' really spoke to me. When I think about it, almost all of my jewellery work is inspired by one of my 'Soul Places' (I definitely have more than one!) and my future collections which are still floating around in my head, are all based on 'Soul Places' too! So this idea was a real moment of enlightenment for me! 

So, what is a 'Soul Place'? 
A 'Soul Place', is a space or place that you feel particularly drawn to, and that makes you feel 'at home'. It is your soul's true home in nature, a place where you feel as much a part of it, as it does of you. This is a place that you feel completely at peace, it could be a forest, an ocean, a ruined castle, or even the city...But wherever it is, you get a spectacular sense of belonging when you're there. 

I guess right now, you're either instantly thinking of where your 'Soul Place' is, and wishing you were there right now...Or you're thinking "I have no idea where my 'Soul Place' is, how do I find it, have I already found it?"...And that's fine, I think I can help: 
5 Ways to know if you've found your 'Soul Place': 
1) You feel Inspired. This one is a pretty big deal for me, because this has happened so many times at my 'Soul Places'.
When you are in your 'Soul Place', you should feel inspired to be creative. You might suddenly remember lines from a song, or a poem, or a book and you may feel the need to be creative in order to express and process the overwhelming emotions you feel, being in this place. 
2) It feels like a familiar place, even if you've never been there before. There is nothing here that your soul finds stressful, you recognise everything, and everything feels completely homely. You're familiar with all the sights, noises and textures, and you feel totally comfortable with it. You're home. 
3) You feel completely at peace. You don't feel the need to talk, or even to move around. This is a place where you are completely content. You are protected from all of your worries and stresses, and the space allows you to feel rejuvenated and look at your problems from a different perspective when you return. This is a place where you know you can relax. 
4) You feel overcome with emotion. It may be because you feel you never want to leave the place, or because you feel so at one with where you are, but something about your 'Soul Place' stirs emotions in you. You feel connected to something, part of a bigger picture, but at the same time it makes you realise how insignificant your problems are in the grand scheme of things. 
5)You feel kind of nostaligic for the place. Even if you've never been here before, theres a sense of nostalgia telling you that you have. You are completely familiar with everything here, and when you leave you know with 100% certainty that you will return, 
And that's how you know!
So...Where is my 'Soul Place'? Well, I have a few, but I'll narrow it down to two for you.
The first, is on the Cornish Coast, at Trebarwith Strand. It's the most beautiful beach full of sea creatures, rock pools, and caves, I could explore there forever. If you ever go there, there's a lovely pub at the top of the cove, which overlooks the ocean. It's perfect. I love the sea, and so much of my work is inspired by the sea, and how I feel when I'm there. You can check it out here

The second, is Rome. My Husband proposed to me in Rome the second time we visited there, but I felt the connection to the place the very first time we went. Perhaps that's why he chose to propose there. I love everything about that city, the sights, the noise, the food, the culture, the history...I feel totally relaxed and completely at home there...Even though I don't speak a word of Italian! 

So, do you have a 'Soul Place'? Where is it? I'd love to know! 



P.S, If you'd like to check out my 'soul place' inspired work, you can find it at www.gemmatremayne.com
And, for more creative musings, early access to new designs, my inspiration, beautiful nature images, notes on eco-consciousness, musings on mindful living and of course helpful jewellery tips and tricks. I'd love to invite you to join my Email Friends I promise my email letters will always be inspiring and informative! 

Gemma 
x 
32 Responses
Leave a comment
Comments will be approved before showing up.
---
Also in News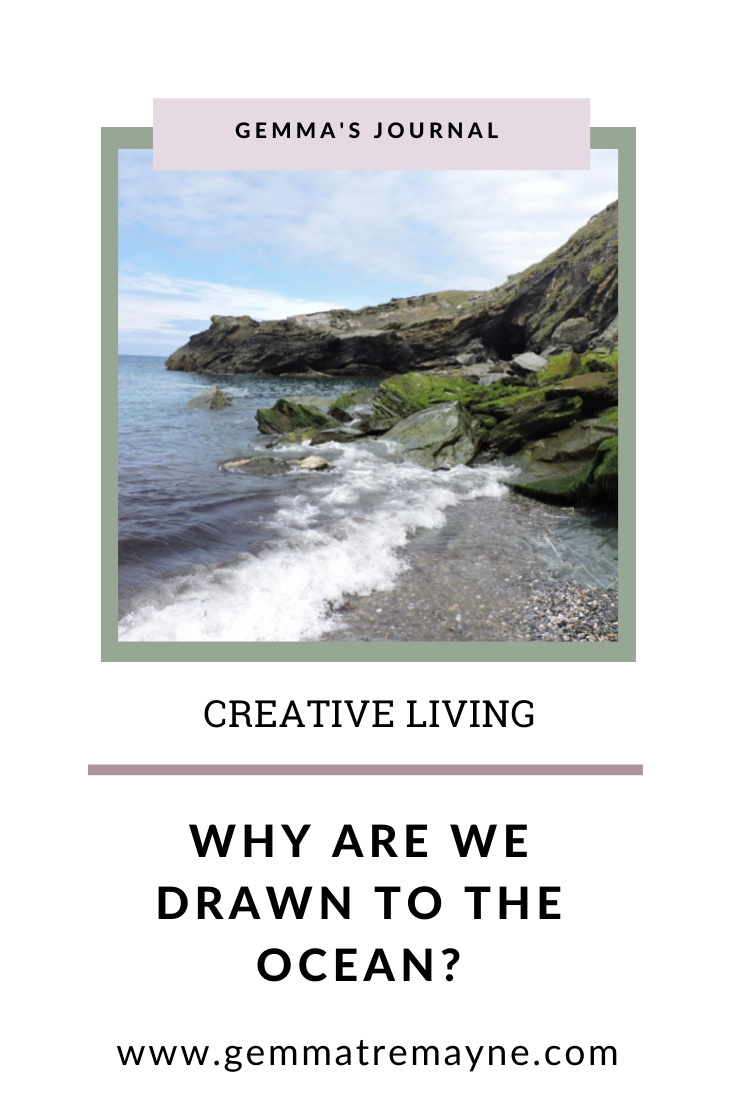 Life has so many ups and downs, just like waves in the ocean. Sometimes it's hard to see over some of the bigger waves, but being by the sea and seeing it's magnitude can make us realise how lucky we are to even be here at all.